Asian eyelids are anatomically different than Caucasian eyelids. The upper eyelid orbital fat is more prominent, and the upper lid crease is lower or nonexistent in Asian eyelids. About half of all Asians are born without a top eye fold crease ("single eyelid"), while the other half are born with an upper eyelid crease ("double eyelid"). An Asian blepharoplasty (Double Eyelid Surgery) aims to increase the dynamic appearance of the eyelid if you have a single eyelid.
What Is Asian Blepharoplasty?
The goal of Asian blepharoplasty (Double Eyelid Surgery) should be to achieve a natural, symmetric result. At the same time, we aim to preserve the Asian features of top eye skin, with or without forming a "double eyelid," as desired by the patient.
What we do not do is try to "Westernize" the patient's eyes. Making the eye crease look Caucasian or "Westernized" results in an unnatural aesthetic that would be visually unpleasant. The goal is to preserve the natural prominent upper lid orbital fat. With this in mind, we then focus on creating an aesthetically pleasing Asian eyelid crease. Our goal is to deliver a natural look comparable to a natural-born Asian eye fold with a double eyelid crease.
Anatomy of the Eyelid
The eye skin crease, when present, can display a range of characteristics. These include:
Broken or continuous
Partial or complete
Nasally-tapered
Parallel
Or multiple
These can be in contrast to the classic semi-lunar shape of Caucasian upper eyelids. The shape and the eye fold corners (canthus) of Asian eyelids are also different from Caucasian eyelids.
Asian double eyelid cosmetic surgery can be performed simultaneously with epicanthoplasty. This is a procedure for aesthetic correction of the medial epicanthal (Mongolian) fold. Epicanthal fold results from redundant or abnormally distributed skin at the inner corner of the eyes of many Asian patients.
1 Year after Asian Upper Blepharoplasty
(Double Eyelid Surgery)
Double Eyelid Correction Procedure
Asian eyelid crease surgery can be performed to create a "double eyelid" appearance. This is often the ultimate goal for patients with poorly defined creases or to even out asymmetric creases. Following a similar procedure to eye skin malposition, there are two main types of techniques for Asian blepharoplasty or eye fold crease formation. These are namely incisional and non-incisional.
In short, the non-incision (suture) technique is faster with quicker recovery. However, it does have some limitations. Namely, its effects are less predictable and likely not long-lasting. The incisional technique, on the other hand, is more predictable and long-lasting.
Both operations are usually performed under local anesthesia with or without sedation. Surgery can last between 1-2 hours, depending on your unique procedure. After the surgery, you will be able to return home the same day. However, you will need someone to drive you back.
What Is Double Eyelid Surgery Recovery Like?
Similar to most lid surgeries, there is a recovery period of about 7-10 days with swelling and bruising. Any discomfort or swelling can be readily managed with the medication we prescribe.
During this time, it will be essential to follow all your post-operative instructions. One of the most important parts of recovery is simply to rest. By giving your body time to heal, you will see better results overall. Dr. Taban will provide you with information about what activities to avoid to achieve optimal results.
If you have any questions at any point after your surgery, let us know. We will gladly be there for you every step of the way. As you continue to heal, your results will begin to reach their final appearance. And they should then be with you for years to come.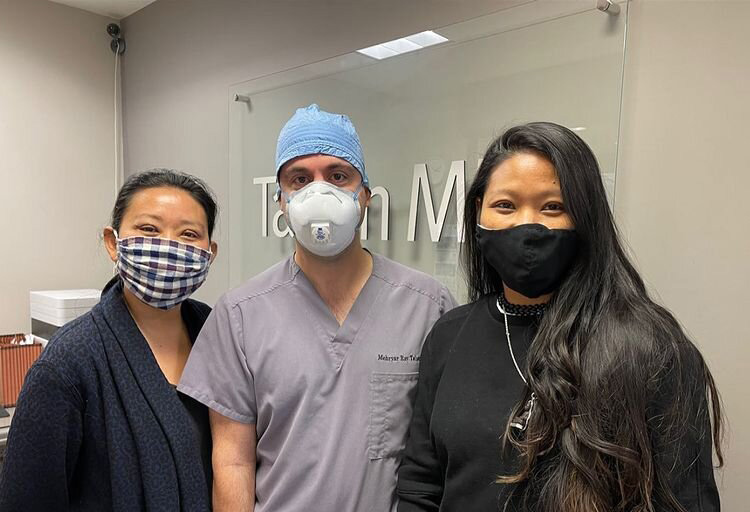 2 sisters undergoing Asian upper blepharoplasty by Dr Taban.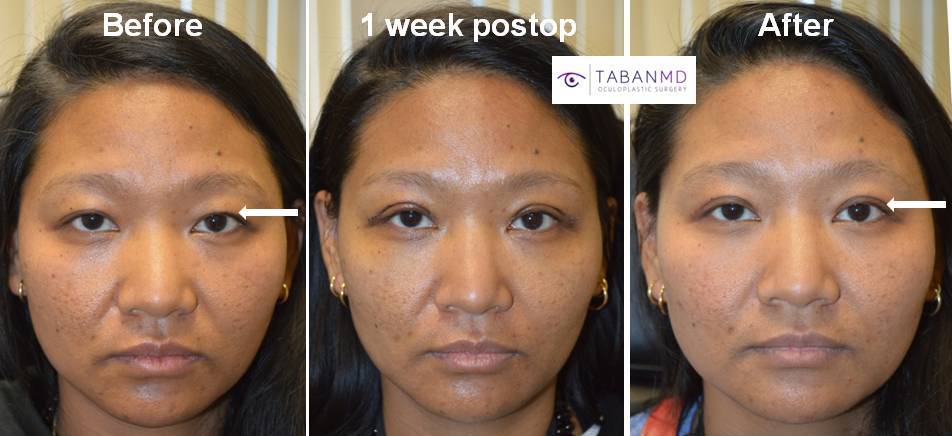 Young Asian woman, with asymmetric upper eyelid crease, underwent customized Asian upper blepharoplasty (double eyelid surgery). Here before, 1 week postop, and 3 months postoperative photos are shown.
Is This Procedure Right for Me?
You could benefit from an Asian blepharoplasty procedure if you want to want to create a dynamic aesthetic. The first step is to have a consultation with Dr. Taban. During this time, you can express your goals and start working with Taban on a treatment plan. He provides complete information along every step, so you will never feel left in the dark.
You will always be central in the process. And Dr. Taban ensures that every aspect of your procedure plan is fully matched to your specifics and needs. In a way, he never performs the same procedure twice because he always adapts it to best suit your natural features.
We also want our patients to meet a few standards to ensure a smooth procedure and recovery. During your consultation, these can be fully discussed. These include:
Be in general good health
Have healthy goals and expectations
Avoid smoking before and after the procedure to promote healing
Schedule Your Consultation Today
Dr. Taban is one of the leading oculoplastic eye surgery doctors in the LA region for Asian blepharoplasty. Contact us via our online support form or by telephone at: (310) 499-2565. Schedule your consultation today to take the first step toward your ideal aesthetic. We look forward to helping you achieve your aesthetic goals! If you have any questions about our procedures, we will gladly answer them.
Before & After Surgery Photos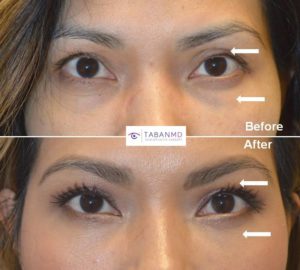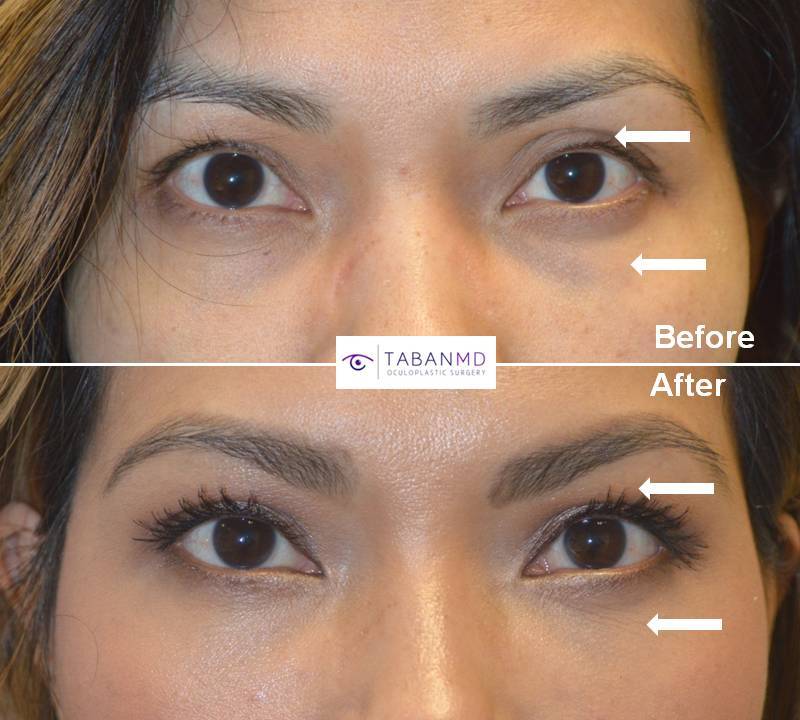 Young Asian lady, complained of upper eyelid asymmetry, droopy lazy left eye, and under eye bags. She underwent left upper eyelid ptosis surgery, bilateral upper eyelid Asian blepharoplasty and lower blepharoplasty (transconjunctival with fat repositioning). Before and 2 months after eyelid surgery photos are shown.
Young Asian woman underwent Asian upper blepharoplasty to have more defined upper eyelid crease. Before and 3 months after eyelid surgery photos are shown.

*Disclaimer: Results vary from patient to patient. Results are not guaranteed.
It has been 3 weeks since I had ptosis and double eyelid surgery. And the results has been amazing, … … my experience with Dr. Taban has been such a blessing. Only wish I found him sooner!!! …
Read More Reviews