Customized Infraorbital Rim Implant
Patients with relative deficiency of the lower orbital rim bone and cheek bone ("congenital maxillary hypoplasia") have appearance of sunken under eye area and cheeks with lack of malar projection, often with negative orbital vector anatomy with appearance of bulging eyes and sometimes with negative canthal tilt with sclera show and appearance of sad, tired eyes, which has occurred developmentally. These patients may benefit from customized infraorbital rim implant (extended tear trough implant) or customized infraorbital-malar silicone implant which helps create a more chiseled facial appearance or angular "model" look with high defined cheekbones with minimal under eye hollowness with more neutral or even positive orbital vector. Dr. Taban can also combine this with other procedures (as deemed necessary in one surgery) such as:
If necessary or desired, Dr. Taban can combine your implant with upper eyelid procedures such as upper eyelid ptosis surgery and upper eyelid filler injection (to reduce upper eyelid exposure with more hooded eyes) or perhaps it can be combined with upper blepharoplasty in patients wanting more upper eyelid exposure instead.
With a single, combined surgery, patients enjoy a more convenient and efficient experience. Whenever we can eliminate the need for multiple surgeries, that is a plus.
Each patient's anatomy and desire are different, which means a custom treatment plan is critical for success. The procedure should fit the patient, not the other way around. Of course, beauty comes in different shapes and forms and the patient has to desire such changes. Every patient should consult with Dr. Taban to discuss their aesthetic goals, risks, and outcomes. You can read more about eye shape by following this link.
This video illustrates the important points regarding infraorbital rim silicone implant.
Animation video showing the placement of infraorbital rim implant and the change it makes. Important to use transconjunctival technique to preserve eyelid function with quicker recovery.
Infraorbital Rim Implant Technique
These are very specialized procedures that require extreme expertise. The eyes are very important and delicate parts of the face. The technique of orbital rim implant placement is critical in achieving safe and effective results.
Dr. Taban uses a scarless transconjunctival approach with the incision INSIDE, not outside, of the lower eyelids. This avoids damage to the eyelid function and eye shape, with much quicker healing.
Dr. Taban often treats complications (from other surgeons) who have performed this procedure with different techniques. These other techniques sometimes result in disastrous results such as lower eyelid retraction and scaring (see testimonial video from young man below).
Another major advantage of transconjunctival technique is that it can be combined with other procedures in one surgery (as deemed necessary) such as customized cosmetic orbital decompression surgery and/or lower eyelid retraction surgery with canthoplasty (almond eye surgery) for those wishing to change or enhance their eye shape while also seeking more defined facial/eye features and angularity; therefore it tremendously makes it more convenient and efficient and safer for the patient as it eliminates the need for multiple operations at different times (Buccal at removal can also be done concurrently in those who could benefit from it.).
Implant Type and Fixation
The type of infraorbital-malar implant and method of fixation are also very important. I only use solid silicone implant which is inert or nonreactive and I use fine sutures to fix it (with direct visualization via the eyelid). Solid silicone is permanent as it never has to be changed in the lifetime although it can be removed rather easily if desired as no tissues stick to it. Other implants such as Medpor have much higher risk of eyelid scarring and eyelid malposition; complications are even worsened if using metal screws for the fixation.
Male patient with congenital bulging eyes and lower eyelid retraction and significant under eye bone deficiency underwent cosmetic orbital decompression, lower eyelid retraction surgery, and lower orbital rim tear trough silicone implant (Infraorbital Rim Implant) placement.
Removal of lower orbital rim (tear trough) cheek medpor implant in a woman who was unhappy about its appearance. It was done using scarless inside eyelid approach. It's removal was very difficult as medpor gets scarred to surrounding tissue. Silicone orbital rim implant would have been much easier to remove.
Video selfie of a happy transgender woman who underwent almond eye surgery with lower eyelid retraction surgery and canthoplasty, customized infraorbital rim silicone implant, customized orbital decompression, and upper eyelid filler.
Young transgender female underwent eye reshaping surgery to have less bulging and more uptured almond eyes. Procedure included scarless orbital decompression, lower eyelid retraction surgery with canthoplasty (almond eye surgery), and customized infraorbital rim silicone implant.
Below you will see several examples of patients who underwent customized infraorbital rim silicone implant placement, often combined with other eye plastic procedures.

27 year old transgender female, underwent eye transformation almond eye surgery including lower eyelid retraction surgery with canthoplasty, infraorbital rim silicone implant, orbital decompression bulging eye surgery, and upper eyelid filler injection. Before and 1 month after surgery photos are shown.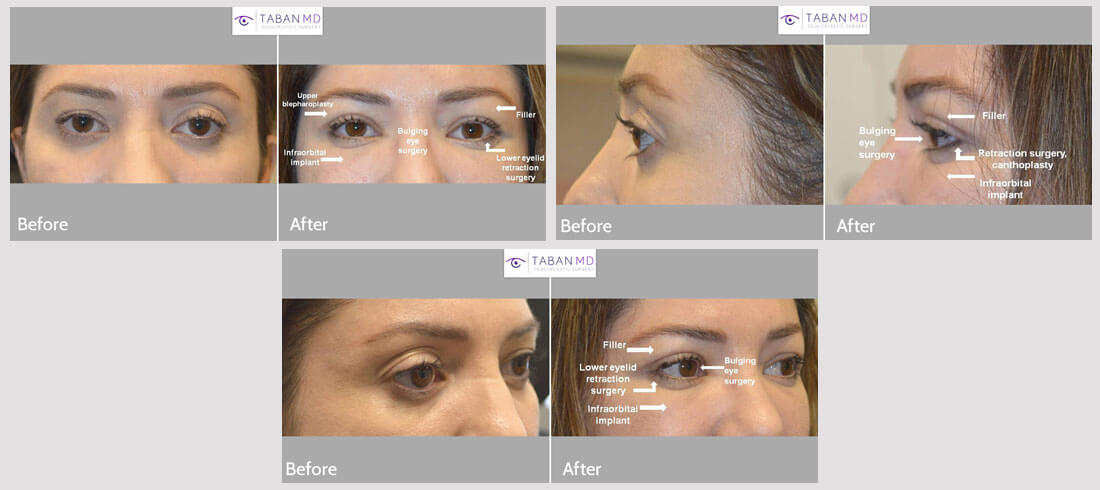 Woman who was unhappy about her eye shape and eye asymmetry, underwent eye plastic surgery including cosmetic bulging eye orbital decompression, infraorbital rim silicone implant, lower eyelid retraction surgery with canthoplasty, right upper blepharoplasty and left upper eyelid filler injection. Note more almond shaped and symmetric eye appearance in the after photo taken 1 month after almond eye surgery.

Young man, complained of inherited lower eyelid retraction with sclera show and promiment eyes or negative orbital vector, underwent cosmetic orbital decompression plus lower eyelid retraction surgery plus orbital rim silicone implant. Before and 3 months after eye plastic surgery photos are shown. Note improved eye appearance in both front and profile views

*Disclaimer: Results vary from patient to patient. Results are not guaranteed.