Eyelid Laceration Surgery
Eyelid laceration from blunt or sharp trauma is common. Some involve the skin only, while others involve deeper eyelid structures. The canaliculi are the proximal portion of the tear duct drainage system that are located in the eyelids themselves, close to the nose. Trauma can cause laceration or avulsion of the canaliculus. They need to be repaired within 48 hours in order to preserve the tear duct system and avoid irreparable damage.
Complex eyelid laceration repair from motor vehicle accident.
It is important for someone familiar with the eyelid anatomy to repair these lacerations. The eyelid is made up of many layers and each layer needs to be reconstructed accordingly for best aesthetic and functional outcome.
Most eyelid and facial lacerations, including those in many children, can be repaired under local anesthesia in our Beverly Hills office, promptly and efficiently. This eliminates the need to go to the Emergency Room where there are often significant wait times (often many hours) and the likely possibility of having someone not trained in eye plastic surgery (oculoplastic surgery) perform the laceration repair. For complex eyelid, facial lacerations repairs, and/or uncooperative children, the laceration repair can be done in an appropriate surgery center under sedation anesthesia.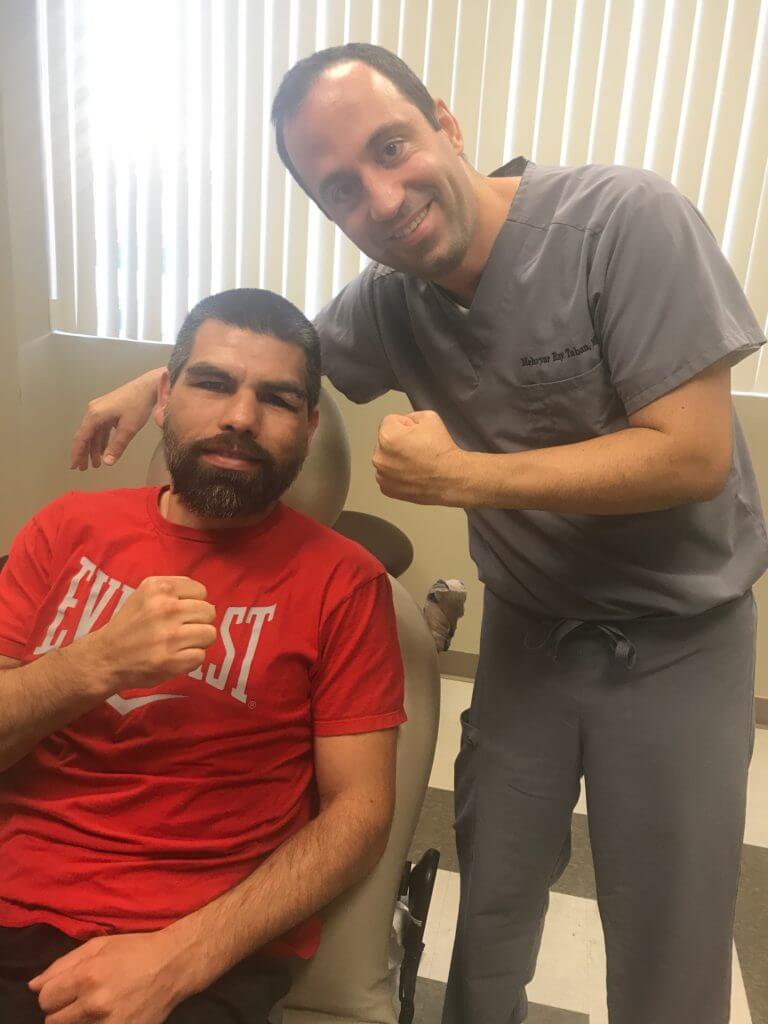 Boxer Alfredo Angulo suffered from upper eyelid/brow laceration during a boxing match. Dr. Taban repaired it in the office.
Contact TabanMD for Expert Eyelid Laceration Treatment
Dr. Mehryar (Ray) Taban is a board-certified oculoplastic surgeon in Beverly Hills who has extensive experience and knowledge regarding the treatment of eyelid trauma and lacerations. To learn more about the different treatment options for your eye injury, contact Dr. Taban today to schedule a consultation.
Next, read about Eyelid Chalazion (Stye) Surgery
*Disclaimer: Results vary from patient to patient. Results are not guaranteed.
I recently had a procedure done on my left eye with Dr Taban. I cannot express how amazing he and his staff are. I had a tumor under my left eyelid … Thanks for everything Dr Taban!

Read More Reviews