Tear Trough Surgery
Sunken Eye Treatment
Tear trough "deformity" is a very common problem in the population. It relates to an area of hollowness UNDER the eyes. This hollowness tends to be worse closer to the nose and improves further from the nose. While more common in thinner faces, genetics can also make you much prone to it. This lower eyelid hollowness can create dark circles under eyes, giving your eyes a tired or sunken eye appearance. Sometimes, patients can have under-eye bags in addition to dark circles. Together, these create an even more apparent effect.
Treating Dark Circles and Under-eye Bags
In mild cases, you can cover everything up with makeup. However, store-bought products do not actually cure under-eye dark circles. Instead, the most they can do is provide temporary moisture or plumpness.
There are various effective treatment options for the tear trough area. When done right, they reduce or eliminate dark circles and improve the appearance of sunken eyes. Each has its own advantages and disadvantages. Generally, the best treatment choice depends on the patient's specific anatomy and desired goals. The treatments include:
Hyaluronic acid gel filler injection
Fat transfer (injection)
Tear trough implant
Lower blepharoplasty (with fat repositioning)
Or a combination of the above treatments
Upper Eye Hollowness
It is also important to mention that hollowness in UPPER eyelids can make things worse. It is true, upper eyelid hollowness can worsen the appearance of dark circles and sunken eyes. Therefore, treating the upper eyelid area is also beneficial and complementary to under-eye treatment. Treatment for upper eye hollowness includes:
Hyaluronic acid gel filler injection
Fat injection
HYALURONIC ACID GEL FILLER INJECTION
Hyaluronic acid gel filler products (Restylane, Belotero) can safely and effectively be injected under eyes to treat tear trough deformity and hollow sunken eyes. The procedure is done with the patient sitting up in the office. The procedure takes a few minutes to complete and it practically painless. There is bruising/swelling that lasts a few days. Most importantly, the effect is IMMEDIATE, PREDICTABLE, and NONINVASIVE. In addition, the effect lasts 1-2 years.
As with any cosmetic procedure, technique is extremely important to achieve the desired effect with natural appearance. If the filler is injected in the eyelid too superficially, it can give puffy bluish discoloration (aka Tyndall effect). The filler needs to be injected deep (on the bone) and in the lower eyelid area, NOT in upper cheeks. Other important factors include type of filler injected and the amount injected. It is critical to be conservative with the amount of filler injected as too much filler can again create unnatural puffy bluish discoloration. Another advantage of hyaluronic dermal filler is that there are reversible by using revering enzyme 'hyaluronidaze.' (Please refer to Eyelid Filler Injection for more details.)
FAT TRANSFER INJECTION
Fat can be harvested from other parts of the body (usually the belly or medial thighs) and transferred and injected to treat tear trough area (dark circles) and hollow sunken eyes. The fat is taken using manual suction to avoid damaging the fat cells. The procedure is done under local anesthesia or conscious sedation. The recovery is painless but there is bruising/swelling for 7-10 days. The great advantages of eyelid fat transfer are the following: 1) fat is natural; 2) the effect is long lasting or permanent. The main disadvantage of fat is that the result is unpredictable as not all the transferred "takes" or survives. It is variable among different individuals. It takes about 3 months for the transferred fat cells to "take" or survive. Any residual hollowness can receive "touch-up" filler injection, if desired.
(Please refer to Eyelid Fat Transfer for more details.)
TEAR TROUGH IMPLANT (INFRAORBITAL RIM IMPLANT)
A permanent treatment to treat tear trough hollowness is tear trough implant (Infraorbital Rim Implant). Using hidden incision inside the lower eyelid (transconjunctival), the implant is inserted to fill the tear trough deformity and shallow orbital rim or those with maxillary hypoplasia. It also effectively improves sunken eye appearance. The procedure is usually done under conscious sedation. Although a safe procedure, tear trough implant is obviously a more invasive procedure than eyelid filler or eyelid fat injection. However, the effect is permanent and natural as the small tear trough implant blends in with surrounding cheek bone and helps treat negative orbital vector or eye prominence too. The implant is made of solid silicone which is inert and never has to be changed but can be removed if ever desired but that is extremely uncommon. On the other hands, if there is residual hollowness that remains after tear trough (orbital rim) implant, then hyaluronic acid gel can still be used to provide optimal result with smooth under eye appearance.
Removal of lower orbital rim (tear trough) cheek medpor implant in a woman who was unhappy about its appearance. It was done using scarless inside eyelid approach. It's removal was very difficult as medpor gets scarred to surrounding tissue. Silicone orbital rim implant would have been much easier to remove.
Male patient with congenital bulging eyes and lower eyelid retraction and significant under eye bone deficiency underwent cosmetic orbital decompression, lower eyelid retraction surgery, and lower orbital rim tear trough silicone implant (Infraorbital Rim Implant) placement.
Animation video showing the placement of infraorbital rim implant and the change it makes. Important to use transconjunctival technique to preserve eyelid function with quicker recovery.

27 year old transgender female, underwent eye transformation almond eye surgery including lower eyelid retraction surgery with canthoplasty, infraorbital rim silicone implant, orbital decompression bulging eye surgery, and upper eyelid filler injection. Before and 1 month after surgery photos are shown.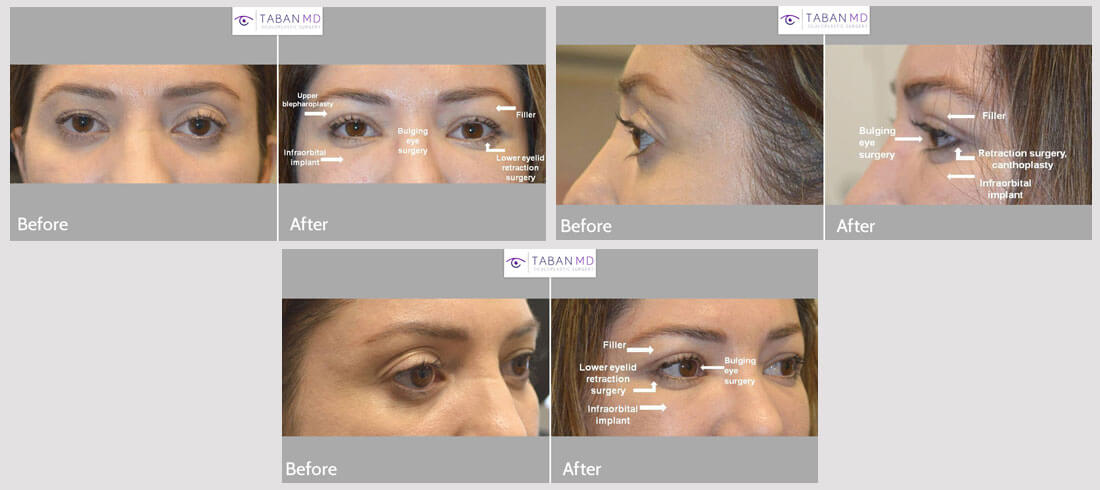 Woman who was unhappy about her eye shape and negative orbital vector and eye asymmetry, underwent eye plastic surgery including cosmetic bulging eye orbital decompression, infraorbital rim silicone implant, lower eyelid retraction surgery with canthoplasty, right upper blepharoplasty and left upper eyelid filler injection. Note more almond shaped and symmetric eye appearance in the after photo taken 1 month after almond eye surgery.

34 year old female, with bulging eyes from Graves disease, underwent combined orbital decompression surgery plus lower eyelid retraction surgery plus orbital rim (tear trough) implant placement. Before and 6 weeks after surgery results are shown. You can see her video testimonial on our website testimonial page and her surgical video on specified procedures.

Young man, complained of inherited lower eyelid retraction with sclera show and promiment eyes or negative orbital vector, underwent cosmetic orbital decompression plus lower eyelid retraction surgery plus orbital rim silicone implant. Before and 3 months after eye plastic surgery photos are shown. Note improved eye appearance in both front and profile views


26 year old female, was unhappy about her inherited under eye bags (puffy under eyes, left eye worse), which is due to fat prolapse. She wanted to have more smooth under eye area, without looking hollow. She underwent transconjunctival (stitch-less inside eyelid incision) lower blepharoplasty with fat redistribution, where the bags/fat was repositioned to fill the hollow part below it (tear trough deformity). The procedure was done under local anesthesia in the office. Note improved natural eye appearance, looking more rested. Before and 2 months postoperative photos are shown.
LOWER BLEPHAROPLASTY WITH FAT REPOSITIONING
Often, there is inherited or age-related prolapsed fat under eyes ("eye bags") which worsen the appearance of dark circles and tear trough hollowness. If there is excess fat bags present, then a great minimally invasive surgical option that provides long-lasting or permanent result is lower blepharoplasty with fat repositioning where the existing fat bags are repositioned/redistributed to fill in the hollow area of the tear trough deformity, giving smooth under eyes. The procedure is done under either local anesthesia or conscious sedation with painless recovery. As with any cosmetic procedure, it is critical to achieve natural outcome and avoid the dreaded surgical look and avoid any unwanted complications such as lower eyelid ectropion or retraction. Hence, it is important for lower blepharoplasty to be performed using hidden inside eyelid incision (transconjunctival) which is scarless and stitchless with quick recovery. (Please refer to Lower Blepharoplasty for more details.)

51 year old female, complained of looking tired and older due to saggy hooded upper eyelid and under eye bags and dark circles. She underwent upper blepharoplasty (eyelid lift), lower blepharoplasty (transconjunctival with fat repositioning and skin pinch removal) and lateral pretrichial brow lift (using temple hairline incision). Before and 3 months after cosmetic eyelid surgery photos are shown. Note natural rested eye appearance.

Get Effective Tear Trough Treatment
To learn more about what treatment is right for you, contact Dr. Mehryar (Ray) Taban today through an online contact form or by calling (310) 499-2565. An information consultation can set you on the right path and effective treatments today.
Next, read about Eyebrow Lift.
*Disclaimer: Results vary from patient to patient. Results are not guaranteed.