Learn about Bulging Eye Surgery
Dr. Taban is an experienced thyroid eye surgeon who uses a minimally invasive technique to perform Bulging Eye Surgery (Orbital Decompression Surgery) on patients who want to reduce the appearance of bulging eyes either for aesthetic or functional purposes. Bulging Eye (exophthalmos) is when eyes appear larger because they are protruding outwards and are more exposed.

Reasons for Bulging Eye Surgery
Bulging Eyes have numerous causes. It is essential to understand what is causing the bulging eyes in order to properly diagnose treatment. Diagnoses should be made by an experienced thyroid eye surgeon so that the treatment is the most effective and least invasive option. If the cause of bulging eyes is thyroid eye disease (Grave's disease), then orbital decompression surgery is only one step in the treatment process. Oftentimes the anatomy of the eyes are different. It is important that the thyroid eye surgeon diligently examines each eye and orbital anatomy so that the treatment process is tailored to the individual eye.
Bulging Eye Surgery Treatment
Orbital decompression surgery for bulging eyes reduces protruded bulgy eyes (proptosis) by expanding the orbital eye socket via removing fat or bone. The larger eye socket allows the eyeball to set further back in the eye and appear more natural. Dr. Taban performs orbital decompression for bulging eyes with microscopic incisions, which allows for a quicker recovery and improved aesthetics. The surgery is an outpatient surgery with only 7-10 days of swelling and pain.
Since bulging eyes are more exposed, they can become painful and easily irritated. If bulging eyes are untreated, the eyes may not be able to fully close during sleep. This can potentially lead to damage of the corneal. Additionally, the protruding eyes can cause an irritation in which the area above the corneal swells due to increased friction when blinking. In more severe cases, the displacement of the eye can even lead to blindness.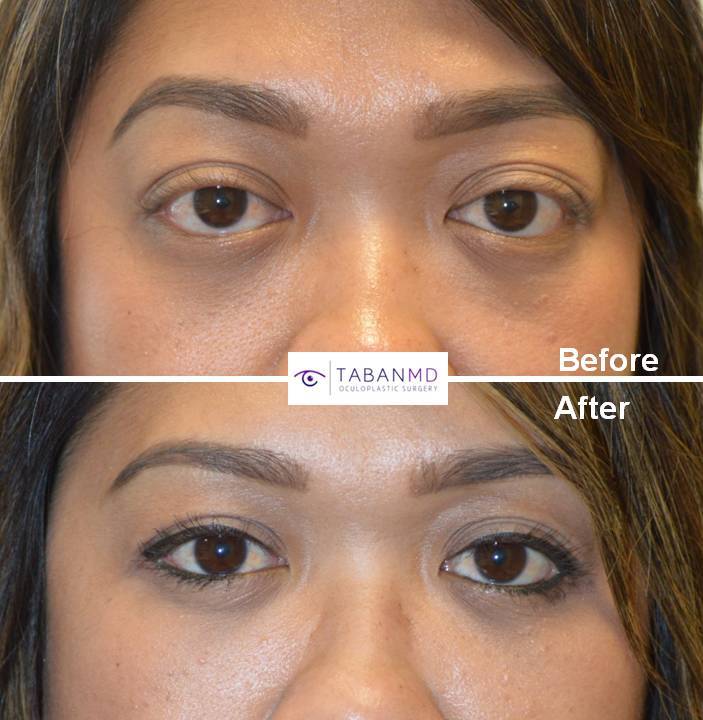 Want to learn more about Bulging Eye Surgery?
Dr. Mehryar Ray Taban is available to discuss your best treatment plan at his offices in Beverly Hills or Santa Barbara.