Feel Instagram Ready.
Upper Eyelid Filler Injections Could Be Exactly What You're Looking For
In an age where everyone keeps in touch by sharing everything on social media, you may be dreading one inescapable aspect – photos.
As with many people, you want everyone to see you having fun, not thinking you look old and exhausted because of something like sunken eyes, hollow eyes or dark circles.
You may not be interested in surgery either. So what is the solution?
Non-Surgical Options Are Available
Thanks to forward thinking oculoplastic surgeons like Dr. Mehryar (Ray) Taban, upper eyelid filler injections can help you achieve lasting results – up to two years – without having to go under the knife.
The eyes are a very delicate area of the body, and Dr Taban has the expertise to rejuvenate your appearance and give you the natural, young, and vibrant expressions you want everyone else to see.
The 3D eyelift is a minimally invasive procedure. It fills out hollow upper eyelids by restoring volume and tightening the loose skin that causes wrinkles.
Dr. Taban typically utilizes one of the following eyelid injectables:
No Time for a Facelift? No Problem!
An upper eyelid filler lift that uses injectable fillers is a relatively quick and in-office procedure (though the length can vary by individual – a consultation with your doctor is required to best determine your treatment plan). Better yet, you can go right back to your day after the procedure is complete. While there may be bruising or tenderness for about a week afterward, recovery usually entails little to no pain. And it can be combined with under eye tear trough filler injection for dark circles if necessary.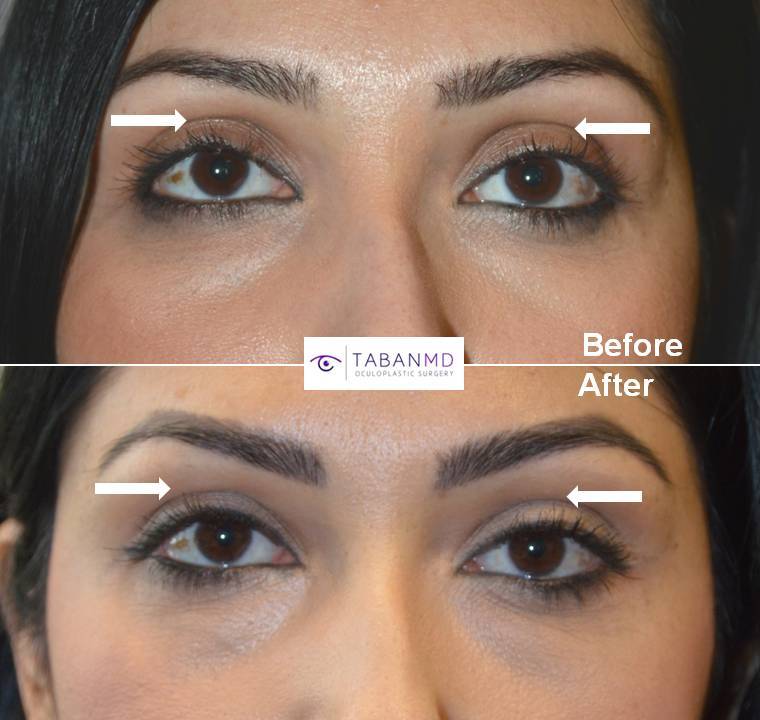 Interested in Learning More?
Whether it's part of a complete eyelift and eyelid treatment plan that includes surgery or it's the only procedure you want done, a non-surgical eyelift that includes upper eyelid filler and injectables may be exactly what you need to correct your appearance and to regain your youthful look.
Contact Dr. Ray Taban online or by phone 310-278-1836 to schedule a consultation at either his Beverly Hills or Santa Barbara practice locations.